Clinical Sciences (Rotations)
Clinical Sciences (Rotations)
Clinical Sciences (Rotations)
The Clinical Sciences Program comprises of an intensive 72 weeks of physician-supervised Clinical Rotations comprising of 48 weeks of Core Rotations and 24 weeks of Elective Rotations at our teaching affiliate hospitals and specialized clinical facilities in USA and Caribbean. During the Rotations/Clerkship, the students participate in supervised patient care rotating through various medical specialties and sub-specialties. The students receive personal guidance from the clinical faculty to develop essential skills and knowledge.
Clinical Rotations are undoubtedly one of the most exciting phase of the students' medical education experience. Since AUB students are given hands-on experience from the first semester of the MD Program, their transition into the clinical rotations is with confidence and knowledge to succeed. Such training allows the students to further hone their skills in patient examination, diagnostic evaluation and critical thinking through direct patient care.
Baltimore Regional Hospitals
Bon Secours Hospital
It is an award winning flagship site of a health system and has been a part of the medical community in Baltimore for nearly 100 years. Consistently ranked a top place to work in the city, it is nationally recognized for community immunization impact and technological advancement.
Northwest Hospital
Northwest Hospital, a nonprofit hospital with 231 beds, has served the northwest Baltimore community for more than 50 years. With a patient-friendly design and impressive array of specialties, the hospital provides patient-centered care with an emphasis on quality and safety. It has earned top honors for several innovative safety initiatives and has built nearby facilities that offer convenient services such as outpatient surgery, adult day care and physical rehabilitation.
Willoughby Beach Pediatrics
It is a private pediatrics practice which is designed to properly assess and address the medical complexities of a child, "Where going to the pediatrician is like a day at the beach". The Hospitals strives to render the highest quality of medical care. Health care providers along with the staff of medical assistants and administrators work together as a team to provide the best service to the patients and the parents.
Union Memorial Hospital
It is a non-profit, acute care teaching hospital located in the North Central section of Baltimore, Maryland. The hospital is a member of MedStar Health, a community-based network of Baltimore/Washington, D.C. area hospitals and other health care services. Keswick Multi-Care Center is located very close to the Union Memorial Hospital and provides senior care in a clean and caring setting.
Levindale Hebrew Geriatric Center and Hospital
It was founded in 1890 and leads the way in care for the elderly, disabled and ill. Combining state-of-the-art technology and innovative programs, Levindale offers long-term, respite, dementia, respiratory and hospice care.The top priority of its doctors and staff is to provide the patients and residents with the best quality of life possible.
Saint Agnes Hospital
Saint Agnes Healthcare is the largest non-profit health system in the U.S and comprise of a 251-bed, full-service teaching hospital with residency programs in a number of medical and surgical specialties. Built on a strong foundation of excellent medical care and compassion the physicians who practice here are committed to providing the best care for their patients.
Providence Hospital, Washington D.C.
Chartered in 1861 by the Lincoln Administration, Providence Health's DC hospital is a 408 bed facility with over 500 full time medical providers serving patients on a sprawling 36 acre campus. Fifteen distinct areas of expertise, from behavioral health and primary care, to cardiology and emergent care, provide a unique and versatile environment for any medical student.
Chicago Regional Hospitals
Jackson Park Hospital
Since 1959 Jackson Park Hospital & Medical Center in south of Chicago, constantly strives to better serve the growing needs of the community. This 269-bed, comprehensive care facility offers a wide range of inpatient and outpatient diagnostic, therapeutic and ancillary services with a commitment to medical education at all levels. The hospital offers full medical, surgical, obstetric, pediatric, psychiatric and medical stabilization (detox) services. It also provides care in various sub-specialties like cardiology, gastroenterology, urology, ophthalmology, oncology orthopedics, ENT, pulmonary medicine, geriatrics and infectious disease. The emergency department attends to approximately 25,000 patients annually. The hospital also provides medical education and training through its family medicine residency program in association with the various affiliated medical schools.
Loretto Hospital
It was established in 1923 and serves more than 33,000 patients each year. A non-profit, community-focused health care provider, which offers unique patient-centered healthcare that promotes general wellness and education in the communities they serve. It provides quality healthcare services in the field of primary care, geriatric medicine, eye care, behavioral health services, pediatrics, women's health, podiatric medicine, family planning and dental services.
Guyana Regional Hospitals
George Town Public Hospital
It is the country's largest hospital where the Seaman's Ward is the oldest section of the hospital and was constructed in 1838. The hospital has a capacity of 600 beds and is government aided. It caters to a large number of patients on a daily basis and is the life line of the city.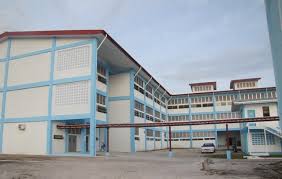 NOTE: Student hand book and Clinical Rotations hand book can be printed separately.
Visa information for Non-U.S and Non-Canadian Students
In order to complete the American University of Barbados Doctor of Medicine (MD) degree program, students from outside the U.S. and Canada may need to obtain certain visas in order to undertake all or a portion of the requisite clinical training in the U.S. Additionally, all students from outside the U.S. and Canada wishing to practice in the U.S. or Canada will need certain visas to take one or more segments of the USMLE exams in the U.S. These visas are solely the student's responsibility to obtain. Students who are unable to obtain the necessary visas will not be able to access clerkships in the U.S.